Army Camo Baby Clothing Gift Set – 3 Piece | New Arrival Baby Gift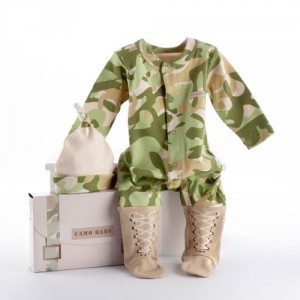 Whether he just plays with toy soldiers or he's going to love a good hunt with his Dad, dress your Little Trooper in this preciously comfortable Camo Baby sleeper. He'll be suited up from head to toe with clever faux boots to keep tootsies warm!
Features and Facts:
Made of 100% lusciously soft cotton in baby-soft mock camouflage colors
Tiny toes stay snugly- warm inside the unique lace-up boot-inspired feet
Newborn size 0-6 month sleeper comes with a cradle-soft cap with a camo topknot!
Legs have secure snap closure for easy changes between "maneuvers"
Fully opened, the exclusive packaging design creates its own unique showcase!
Clever, backpack-style camo box unfolds to display product hanging from a sturdy, custom-designed hanger.  Folded up, the box creates its own gift wrap suitcase!Whether he just plays with toy soldiers or he's going to love a good hunt with his Dad, dress your Little Trooper in this preciously comfortable Camo Baby sleeper